Our loyal and long-term staff is not something you can replicate. This is only possible with time. The fact that people stay means we are doing something right! Many of these individuals have been with us for more than 10 years, with some of them as long as 20 and 25 years. In fact, there have been a few over the years who left only to find their way back.
Our team of Wellness Associates takes pride in what they do. We believe knowledge is power. Therefore, we offer ongoing seminars as often as two or three times a month.
We have constant promotions to offer our customers the best value we can. We have a successful flyer that runs three times a year offering you some of the best deals in the country! Our other offers include: The Bottle Recycling Program, Our Instore Experience with Wellness Associates, Volume Buying Discounts as well as Customer Appreciation Day!
Another facet of Alive, that we are pretty proud of, is our Alive Vitamins line. Our brand originated well over 30 years ago and it remains strong due to its incredible reputation; quality is never compromised. We source the best raw material and we are manufactured in Canada! We have our NPN (natural product numbers) issued by Health Canada and our brand can heal you from head to toe! Start your road to health and happiness by finding a location near you.
Lastly, Alive is a family run business. We believe that all families are important and therefore when we make a decision about the business we also keep in mind of how it will make things easier for your family as well. On behalf of the team, we hope you enjoy our online and in-store experience.
Stay connected to our social media platforms such as our Alive Health Blog, Facebook, Twitter, Instagram and Sign up for our newsletters to keep in the loop.



Our History
Alice Chung is the owner of three separate health food retail chains. She started with a single 700-square foot store in 1983 called Alive Health Centre in British Columbia, while her husband was employed as a professor at UBC. Today, there are 11 Alive Health Centre stores in the province. Alice was named One of the Top 25 Canadian Immigrants and the Recipient of the RBC Entrepreneur of the Year in 2015.
In 1998, Chung came to acquire the Supplements Plus chain in Toronto and in 1999, just one year later, Chung acquired the Morning Sun Health Food chain in Alberta. It consisted of 10 stores but Chung has since added more locations. She sits on the VGH & UBC Hospital Foundation Board and is also on the Board of CHFA (Canadian Health Food Association) — she does it all!
Chung currently oversees 24 stores and approximately 170 employees. She attests the smoothness of the operation to her amazing team of Wellness Associates who love what they do as well as all the talented people that work in the head office. Chung believes that great, enthusiastic people are what makes the Alive Group special.
Our Founder, Alice Chung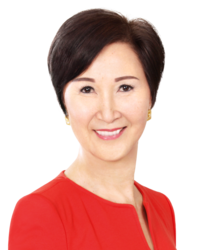 One of the best ways to describe Alice according to author Melanie Franner is that Alice is a woman with a cause and she leaves no stone unturned. What does this mean? It means that she is not just running a business in order to make a living. Rather, everything she does has great intention and purpose that is greater than her. She digs deep and always does the absolute best she can.
Alice wears many hats. She has one son and is a Grandmother of three, she serves and devotes much of her time to many important causes such as BC Children's Hospital, BC Women's Hospital and Vancouver General Hospital (VGH). She is on the board of CHFA and she does it all while thinking about her purpose and mission which is to "Change the world through healthy living by putting you first."
She is thorough and anyone that knows her can attest to the passion that she has for the natural health industry. Her commitment goes way beyond her business. She aims to look after the planet and make a difference in this world. To her, healthy relationships take precedence over anything. Building a community and having integrity are her top priorities. After that everything else just falls into place. Therefore, when she carries a product it means that it is something that she would use or take herself along with her family and therefore she will never compromise the trust that customers have come to have for Alice for over 37 years. She will not take this for granted and she will continue to be a strong small business owner, happy to serve Canadians best interests when it comes to their health.
"Determined" is one word that can be used to describe Alice Chung. Optimistic is another. Combined; the two in no way come near to capturing the spirit and enthusiasm that has enabled a Malaysian immigrant to take the Canadian health and nutrition industry by storm. At age 73, Chung is committed to continuing to implement change and, in the process, make for healthier Canadians all across the country.
Alice Chung, who is 73 years young, has been in the health industry since 1978. She owns Alive Health Centre (BC), Morning Sun (Alberta) and Supplements Plus (BC and Toronto). You can find Alice at the Kerrisdale Store location in Vancouver, BC, Thursday – Saturday: 604-263-3235 or toll-free: 1-866-499-9546.